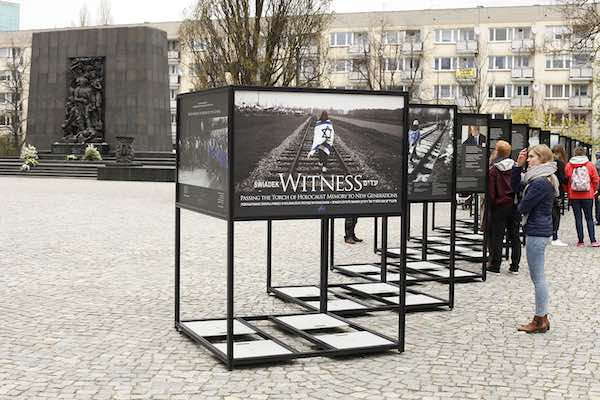 On the eve of Passover 2017, International March of the Living was honored to host the installation of our exhibition outside the Polin Museum and Rapaport Monument in Warsaw, Poland. The exhibition is visible by all Museum visitors and will consist of 16 units with each panel composed of photos and text in English, Polish and Hebrew to increase widespread understanding.
Originally installed at the United Nations in December 2015, this exhibition was included in the 2016 UN International Holocaust Memorial Day commemoration in January. Subsequently, it was installed at the entrance to the Auschwitz-Birkenau Museum where it remained for nine months. In August 2016, this special photographic exhibit was moved to the front of the library in the center of the city of Oswiecim.
Hundreds of thousands of individuals from all over the world have had the opportunity to visit our exhibit and learn about the important work of the International March of the Living and we are most gratified by the reception continually received from viewers.
The International March of the Living would like to express our deepest gratitude to the Polin Museum, representatives of the government and the Chef Rabbi of Poland for joining us in Warsaw to commemorate this symbolic occasion.
View video of the exhibit HERE
View the exhibit on the Polin Museum's website HERE